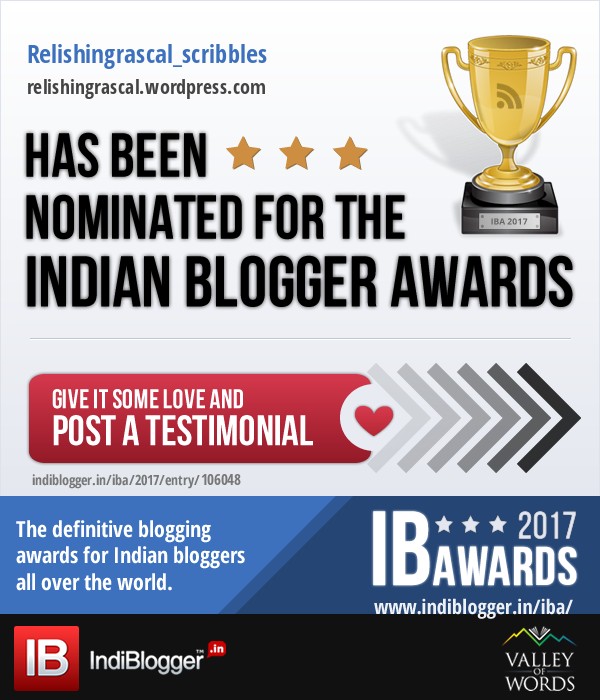 Getting up with the rising sun but feeling still sleepy! Going on, starting those chores. Doesn't feel like smiling, but still I do when i wake up ny little one for school. Rushing and running within fifteen minutes of getting up so that the kid isn't late to school. Doesn't feel like cooking, bit still I do, make a meal, a healthier one, for my little one.
Pheww!! The child's gone! Oh my God!! Husband needs to be woken up. Rush,rush rush!! Wake him up, prepare a good breakfast, pack the tiffin and pheww! Even he's gone.
Let's heave a sigh of relief! Oh Gosh! Baby is tossing, Oh my God! nooo, not now! But this one didn't hear that. Why? Because he's already crying on top of his voice. Run, run, run! Get him a feed. Oh God! He's still screaming, let atleast the milk heat itself a little. Yeah, finally. He's happy with the feed, gives me a smile and wait, ohh, finished it already and is already on an another mission.
Don't tell me! How can he load his diaper when I haven't even had a proper five minutes in bathroom? But who cares? ,He needs immediate attention or else, you know, your hears are going to be banged with loads to clean too. Noo! Not that mess, let's get over this.
Ok, bathed and dressed, we seem to be happy playing with those blocks. Let's get the cleaning done. Glad, bedroom looks fantastic, let's get to kitchen and have some food. Feels good to have something finally after being running around the house for two hours consecutively. Ok, so little one enters here too toddling slowly and giving cute smile. Let's share the meal!
Half of the meal in clothes and hopefully half in tummy, get him cleaned again, let's head to the bedroom. Blink blink! Am I dreaming? Thought so there was a bed of mine behind those heap of topsy turvy things out there! The very perfectly managed room was all trashed and messed. I get a cute smile back when I stare at the culprit standing with me.
Four hours past! Hush! Baby's asleep, lunch is cooked. I am full, let's take a nap. Haww!! Feels great lying down and my eyelids are already dropping. Ding ting ding! Doorbell rings. Ok, the elder one's home! "Hey, welcome back", although feeling extremely sleepy, the glad fresh smile is genuine.
Well, sleep is a forgotten story, time to be a tutor after refreshing and fulling up the tummy of this big guy. Not to forget, the junior is around the corner on a mission against studies, tutor and especially on those pages of the books. Sigh! Two hours, literature and mathematics done, with hushing the little one away from the colourful books and stopping him from snatching those pencils.
Cooking time is the toughest! Both of them seem to be having all sorts of nature calls, fights and urgent needs at the same time. Doreamon acts like an angel at that time. Well, as fast as I can, cooking task gets completed. When mr. Daddy comes, I get a partner in dealing with the hoolygons, a little tired one though!
After dinner house looks like a whole cyclone has passes through it. Getting them in bed, a task to be completed any how immediately because I want to read something today, let's see if I get some time and energy for it. Afer all those alleged calls from lions, bears and ugly old lady, they are finally snoring.
Oh my, my! I just couldn't describe the bliss I feel when I see both of them fast asleep! And when I glanced at their dad, I know he feels the same. Too tired even to move, I yawned, showered and was ready to just drop dead, reading, can wait! Thank God, tomorrow's a sunday. But I'll have to wake up early tomorrow too, because the little one needs attention at 7a.m. in the morning. But that can be compensated as I have their dad to share the load.
With drooping eyes, I got a bomb to hear, "let's go for a picnic tomorrow!" Eyes opened wide I repeated, "picnic tomorrow?" And the cassette started playing, getting the two excited kids ready, preparing all the snacks and drinks, managing the two fidgeting souls trying to drag almost everything they get their hands on, and not to forget the travel sickness to go with it. Ok, so let's drop the plan, it's going to be a huge flop!
But then, I glanced at those sleeping little ones and imagined all the glory they are going to feel and the exploring they are going to do, I smiled. said ,"yes, let's go for a picnic tomorrow!" I know I would be dead tired when I'll be back, would regret each second when they'll drive me nuts, would end up being more crazy, but it's ok, I'll be glad! Feel the most pleasure ful seeing my kids happy. Well, that's being a mommy, that's motherhood!!